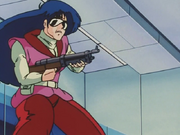 Moila is a criminal who travels with her partner Pete. She appears in "Ho Ho Ho, Dresses and Men are Better New" where the police assume Yuri is her becayse they look similar. Later on, she along with Pete are defeated by the Lovely Angels. She is voiced by Yuko Mizutani.
Ad blocker interference detected!
Wikia is a free-to-use site that makes money from advertising. We have a modified experience for viewers using ad blockers

Wikia is not accessible if you've made further modifications. Remove the custom ad blocker rule(s) and the page will load as expected.