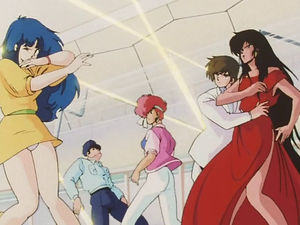 Love is Everything, Betting Their Lives on Escape is the 7th episode of the Dirty Pair anime.
Clicky Goldjeff, heir to a highly successful interstellar luxury travel firm, has been abducted from his own wedding by his true love, Joanca! The Angels have been hired by his father to retrieve him and pay his kidnapper two million credits. But what does the elder Goldjeff know that he wants buried and is willing to stand in the way of Love?
This is the first episode to show Yuri's panties.
Ad blocker interference detected!
Wikia is a free-to-use site that makes money from advertising. We have a modified experience for viewers using ad blockers

Wikia is not accessible if you've made further modifications. Remove the custom ad blocker rule(s) and the page will load as expected.