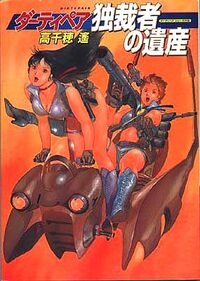 Legacy of the Dictator is the 5th book in the Dirty Pair light novel series.
This time around, Yuri and Kei have been dispatched to planet Amuneal. Because the former dictator there ruled by a declaration of terror, he was overthrown in a revolution. Called a cold-hearted emperor, he was executed and a new government has now been established. The Pair's mission is to remove the last vestiges of continuing defiant resistance from the defeated party, "Sons of the Emperor." Along with the Quall group closing in on the secret of Mughi's birth, this is an episode from the original Dirty Pair's rookie days.
Ad blocker interference detected!
Wikia is a free-to-use site that makes money from advertising. We have a modified experience for viewers using ad blockers

Wikia is not accessible if you've made further modifications. Remove the custom ad blocker rule(s) and the page will load as expected.