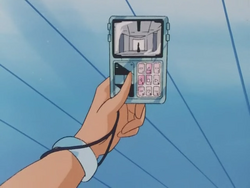 The handheld pad is a computer pad that can display information and records. The pad can be used to input and manipulate data. It can access a ship's security records. It's similar to real world tablet.
The pad is reminiscent to Star Trek TNG's PADD in function and design. It may have had some influence on the later.
Picture Gallery
Edit
Ad blocker interference detected!
Wikia is a free-to-use site that makes money from advertising. We have a modified experience for viewers using ad blockers

Wikia is not accessible if you've made further modifications. Remove the custom ad blocker rule(s) and the page will load as expected.