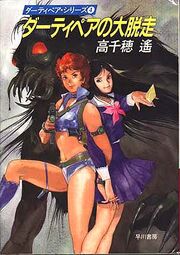 Dirty Pair's Great Escape is the 4th light novel of the original series written by Haruka Takachiho. The novel was released in Japan on March 31st, 1993.
At the galaxy's premier girl's school (the St. Elmo Institute), developed by the Rotchester Foundation, a strange disease has appeared! One by one, beautiful young women are succumbing mysteriously to the illness. So, the Foundation requested the WWWA's assistance... dispatched were criminal trouble consultants with no connection to the epidemic and such, once again the unconnected Dirty Pair's Yuri and Kei.
Ad blocker interference detected!
Wikia is a free-to-use site that makes money from advertising. We have a modified experience for viewers using ad blockers

Wikia is not accessible if you've made further modifications. Remove the custom ad blocker rule(s) and the page will load as expected.